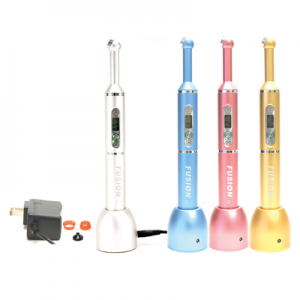 By Dental Product Shopper
Using a patent-pending Focused Beam LED Technology, Fusion provides 1500 mW/cm2 of output power.
The key features of the Fusion curing light from DentLight include backlit metal keypad controls, 7-mode digital displays, interchangeable 360° swivel light probe with 10 mm large tip, dual power levels, and the ability to cure all materials. Other unique features include sequential modes for full-arch, 1-click operation; optional tacking tips, lens modules, and caps to cure 3 mm to 13 mm; and the ability to directly mount and charge the light on a dental unit.
According to the manufacturer, the anodized aluminum metal handpiece distributes LED heat and prevents scratches, discoloration, and damage from accidental falls. The handpiece comes in 4 color options: silver, pink, blue, and gold.